We are extremely happy that you have visited our website and we would like to invite you to our dental office. We will make our best to make you feel comfortable and that is why we will make every effort to make your visit enjoyable.
Our practice guarantees high quality services and a friendly atmosphere. Our staff is highly qualified and continuously perfecting theirs skills.
We have the highest quality equipment. For the comfort of our patients, we are providing X-Ray machine with digital radiography, which guarantees lower doze of radiation and immediate results. The effects of our work, can be seen on a intraoral camera, installed right by our units.
We treat kids with special care. There are cartoons, colorful fillings and prizes waiting for our brave, young patients. We also have a playpen in our waiting room.
During the visit you can relax while watching your favorite movie or listening to music. Our air-conditioned rooms are up to most recent standards, and wheel chair accessible. While you are waiting for your appointment we are happy to invite you for a cup of coffee and relax in front of the TV.
We believe that work ethics, concern about our patients' wellbeing and our many years of experience will satisfy our most demanding patients.
Our team
Karolina Mazurek-Wójcik DDS
A Graduate of Medical Academy in Zabrze (2000-2005). She finished her postgraduate internship at MCS-NH in Cracow, under the supervision of Dr. Mazaraki. For couple years she worked at a private dental center in Cracow. Her passions are cosmetic dentistry and prosthodontics. She is self-driven, always seeking to improve her qualification and professional skills. Frequent attendee of numerous dental courses and conferences.
She has gained a lot of experience throughout the seven years of her professional career. This experience allows her to provide the patients with complex dental care, as well as professional diagnosis and prosthetic treatment. The most important thing for her is to earn trust of her patients, also performing the procedures gently, painlessly and professionally. She is always friendly and understanding. She is also fluent in English.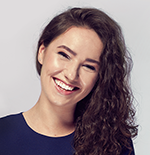 Joanna Trzepatowska DDS
Graduated from Jagiellonian University Collegium Medicum in 2009. She attended numerous dental courses, trainings and conferences in and outside the country (Columbia, USA). Her main focus is in area of dental surgery. Her further education lets her treat patients up to the latest standards. She is very friendly and tender even to our youngest patients.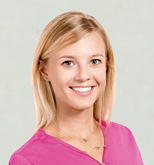 Barbara Karwan  DDS
Graduate of Collegium Medicum of the Jagiellonian University. She completed her postgraduate internship at the JUNIORDENT II Children's and Youth Dentistry Clinic. Always smiling, full of empathy and optimism. With his disposition, he quickly gains the trust of even the youngest and most demanding patients. He deals with the full spectrum of conservative, endodontic and prosthetic treatment, as well as pediatric dentistry. Privately, she has the true spirit of an athlete. A sports enthusiast known in the community (especially running and basketball).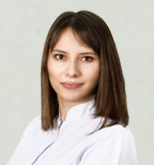 Sylwia Machej  DDS 
A graduate of the Jagiellonian University Collegium Medicum in Krakow, she completed an internship at a dental clinic in Krakow. In her work, she pays great attention to the painlessness of the procedures performed, the comfort and well-being of patients. Every day, he strives for perfection in performing procedures, his main interests include endodontic treatment under a microscope and cosmetic dentistry. Participant of endodontic conferences. In his free time he devotes himself to painting.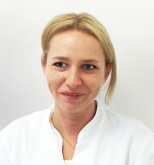 Izabela Żaba - dental assistant 
A graduate of the post-secondary school for dental assistants in Krakow with several years of experience in the profession. She is always smiling, she has very good contact with patients, especially the youngest ones. Thanks to her efforts and help in the office, patients feel at ease and do not stress before the procedures performed. He makes sure that our office shines with cleanliness. She derives great satisfaction from her work and constantly improves her qualifications and skills by participating in numerous courses and trainings.